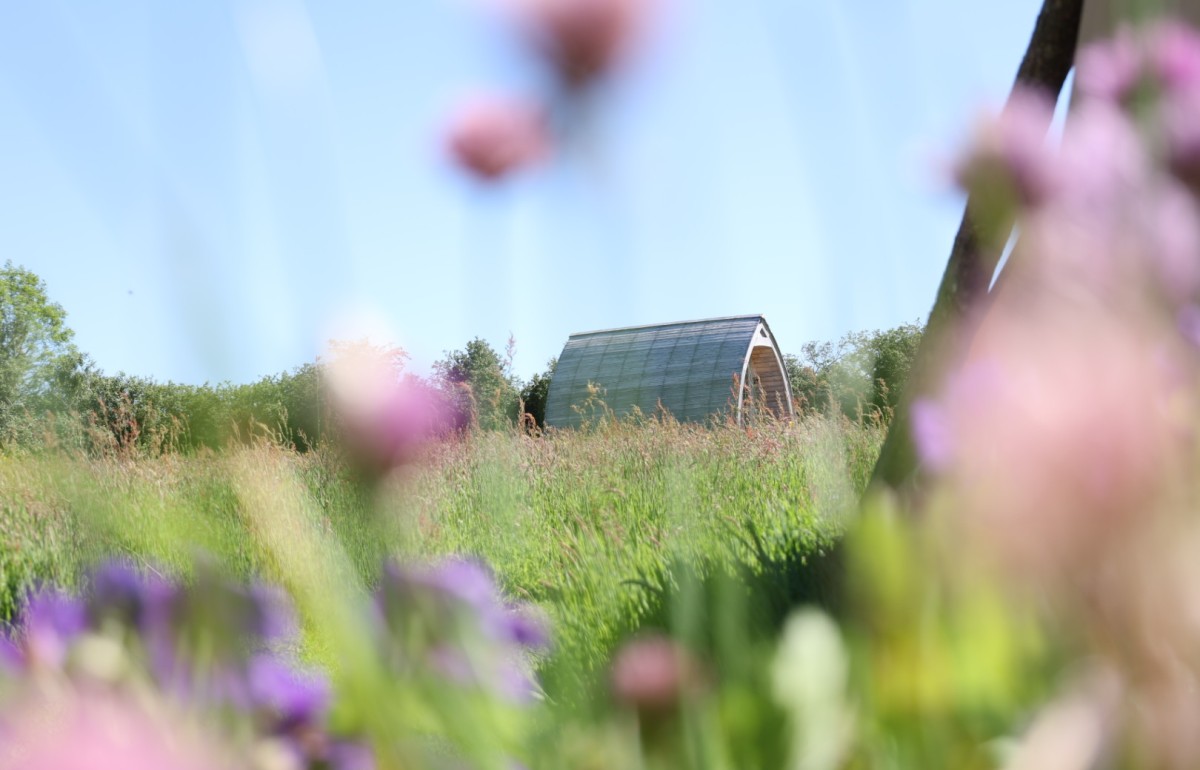 What's it like to stay on the farm?
Somewhere to gather, play, cook and simply take it easy.
Higher Culloden Farm sits in a hidden corner in the heart of Camelford, North Cornwall – it enjoys being both in the countryside and near the action. Settle down in one of our five off-grid pods, sleeping up to a family of four, with your own private shower room and toilet just a few metres away, and full use of the shared facilities. Here's the detail…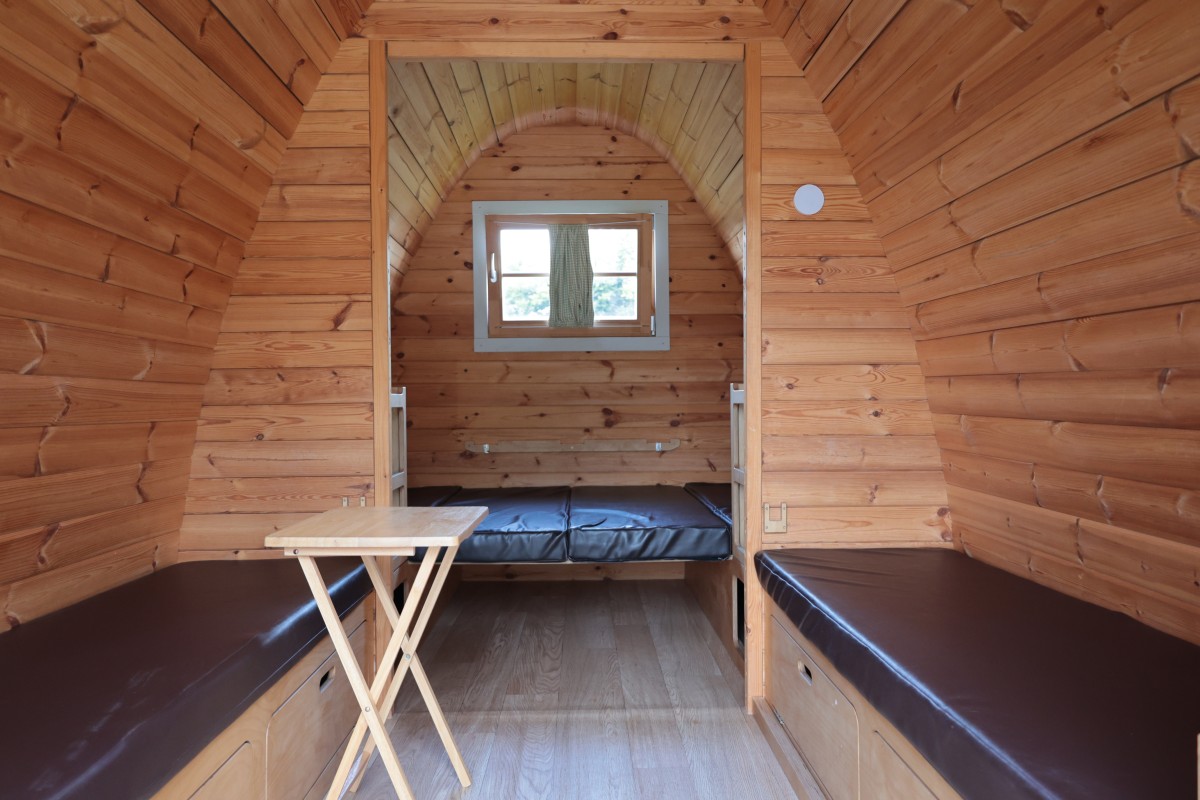 Your cosy camping pod
Your simple off-grid insulated timber pod is perfect for a back-to-nature family getaway. They measure 4.8m long, 2.4m wide, and are 2.8m high inside, providing a surprising amount of space.
Each pod sleeps up to two adults and two young children (the children's beds are suitable up to about the age of 12)
Plenty of under bed storage and shelving
Like a caravan, the double bed area can turn into a large dining table
Two magnetic rechargeable dimmable touch lights inside (but you might want to bring a lantern too)
A small fold out table
Bedside bumpers available to ensure little ones stay tucked up in the kids' beds (5'6″ long and about 2 foot wide)
Double glazed window and doors
Lockable doors – keep your stuff safe and secure
Large decking area to the front and own picnic bench nearby
Each pod also has a smoke alarm, carbon monoxide alarm and fire extinguisher.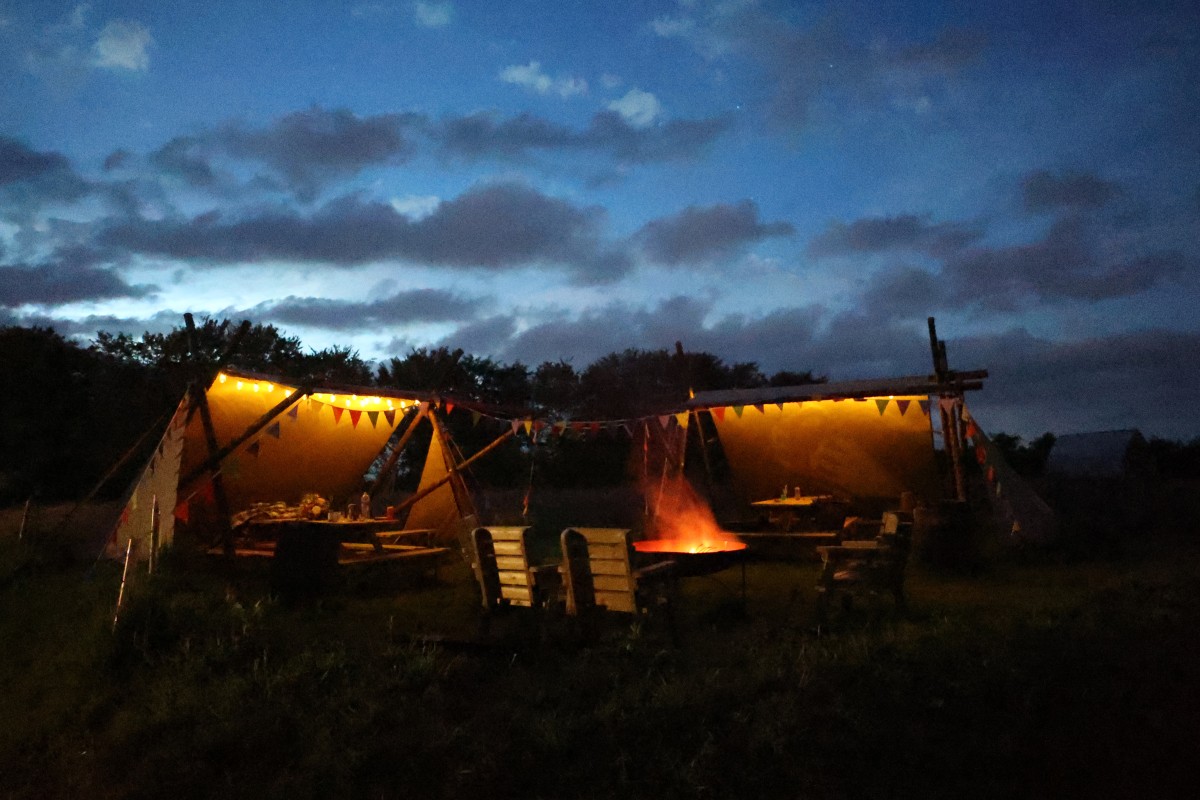 The Camp Cookout Corner
Get culinary at the Cornish Campfire Cookout Corner which boasts a huge 120cm diameter barbecue firepit with four barbecue grills, dutch oven, marshmallow forks and roasting pan, for some epic pitmaster-style barbecue evenings that could cater for the whole site!
With wooden armchairs and several picnic benches under the two canvas canopies, there's plenty of room for everyone to sit and feast and get to know your holiday neighbours.
You can freely use traditional barbecues privately near your pod.
All the gear can be found in the barbecue shed.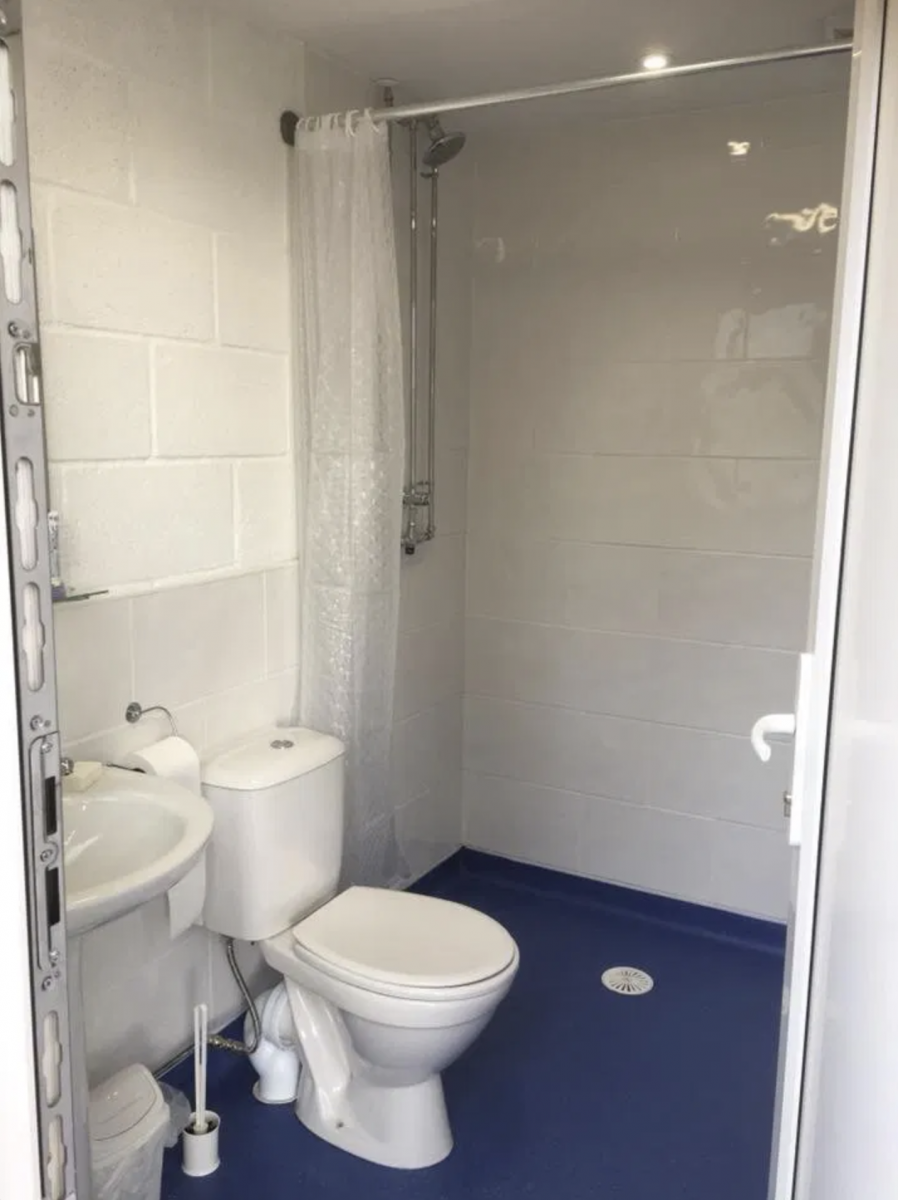 Your private bathroom
Each camping pod has its own lockable private wetroom and toilet in the handy facilities block in the same field as the pods. No more walking across a field with towels, toothbrushes or toilet paper! Simply leave what you need in your bathroom for your entire holiday.
Each has:
A large wet room walk-in shower with shower curtain
Push button shower taps with the temperature set to ensure you have a nice warm shower
Toilet and sink with push button hot and cold taps
A large mirror with a shelf
Several hooks on the wall to hang towels or clothes
Small bench
Auto lights – activated by movement
Auto extractor fan – activated by movement
Small bin
Nappy bags
Small step for little children to reach the sink
Squeeze mop (just in case you need it)
Frosted windows with small opener at the top.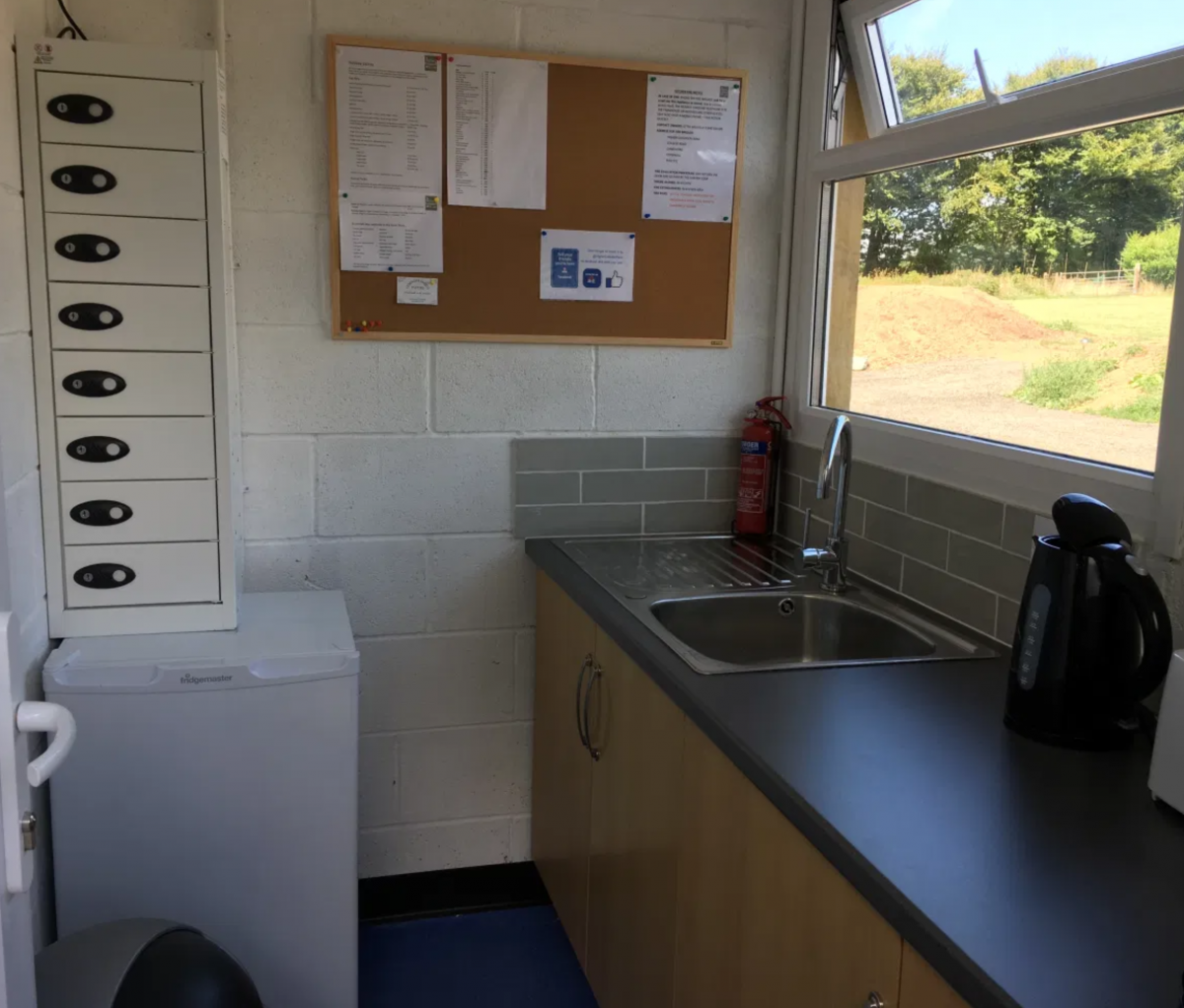 The kitchenettes
There are two shared kitchenettes in the facilities block available for all guests to use. You can also use the charging lockers here for free to plug in your digital devices during your stay (no vehicle charging on site, that's in town).
The kitchenettes have a shared fridge, microwave, toaster, kettle, washing up sink and dish soap, a large bin and plenty of cupboard space
It's worth noting that there is no hob or oven for 'proper' cooking. You can bring or hire a camp stove, use the barbecues and fire pit or get food out locally.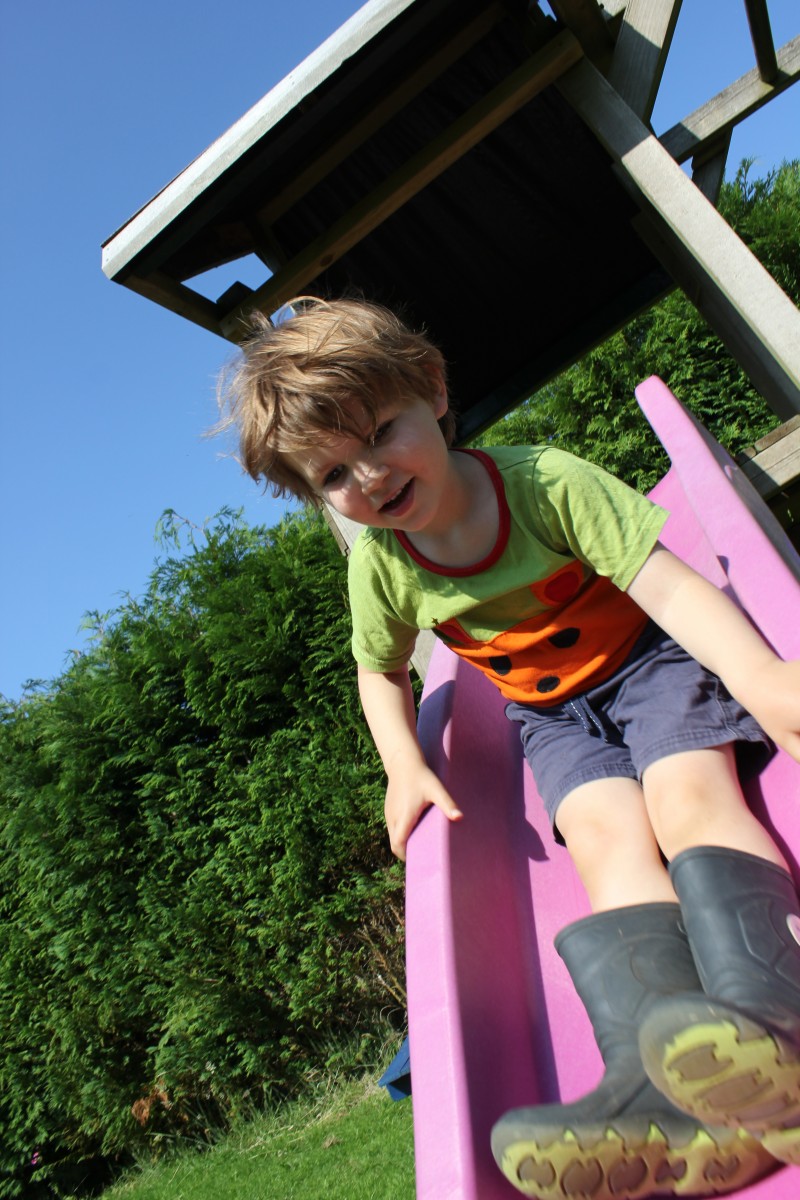 Play time
Kids love to spend time in the huge 10m sandpit in the small play area, safely within sight of the Cookout Canopies. Have a game of table tennis table in the Camper's Barn or kick a ball around the playing field, which is great for rounders, football and sports at the top of the pod field. You might find some other fun spaces to play and explore on a walk along the river.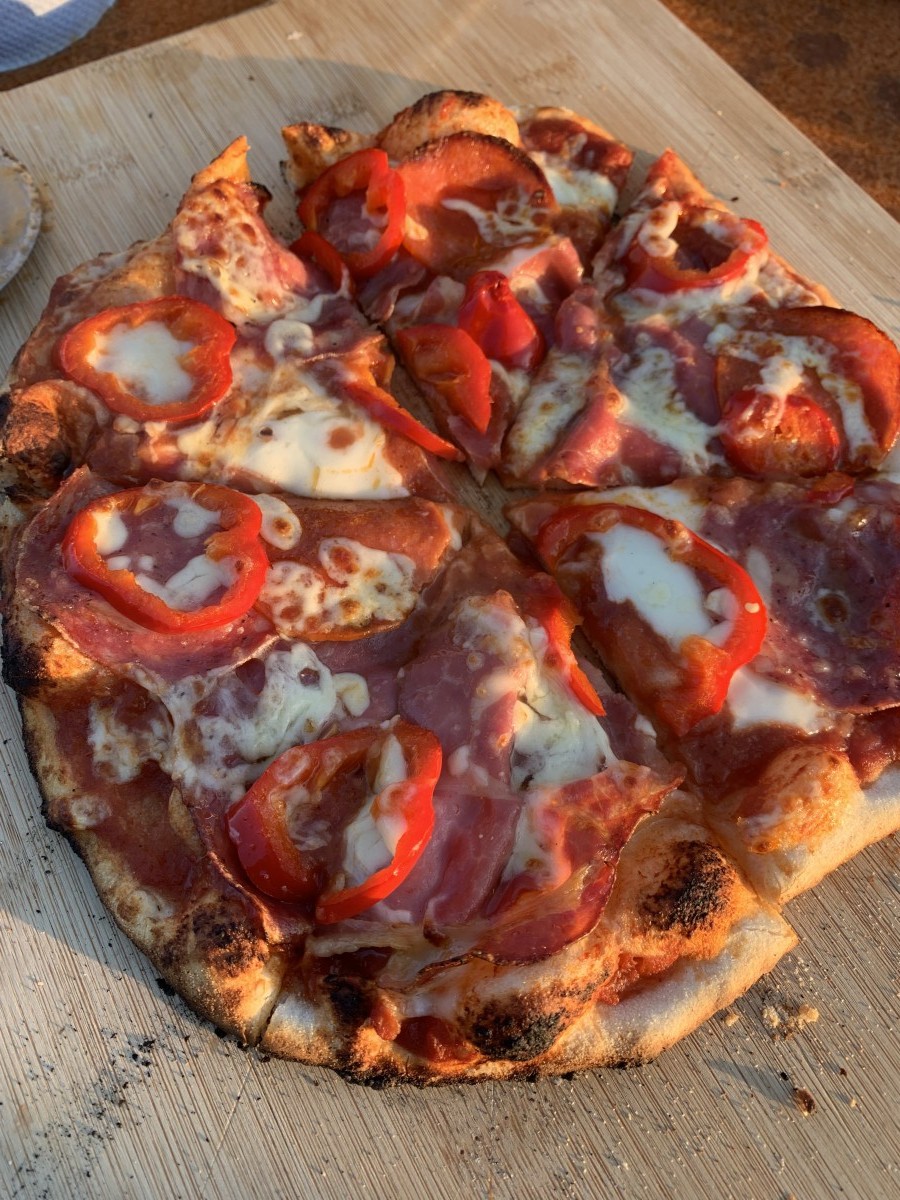 Little extras
We can provide local lumpwood charcoal, firewood packs and other extras to make things easier. You can also hire camping equipment packs if you don't have your own. These include a stove, crockery, cutlery, pans and utensils – everything you might need to cook for a family.
If you fancy early check in at 12 noon, or late check out at 5pm, to help you make the most of your stay, do get in touch to find out availability.
To find out more, visit our shop.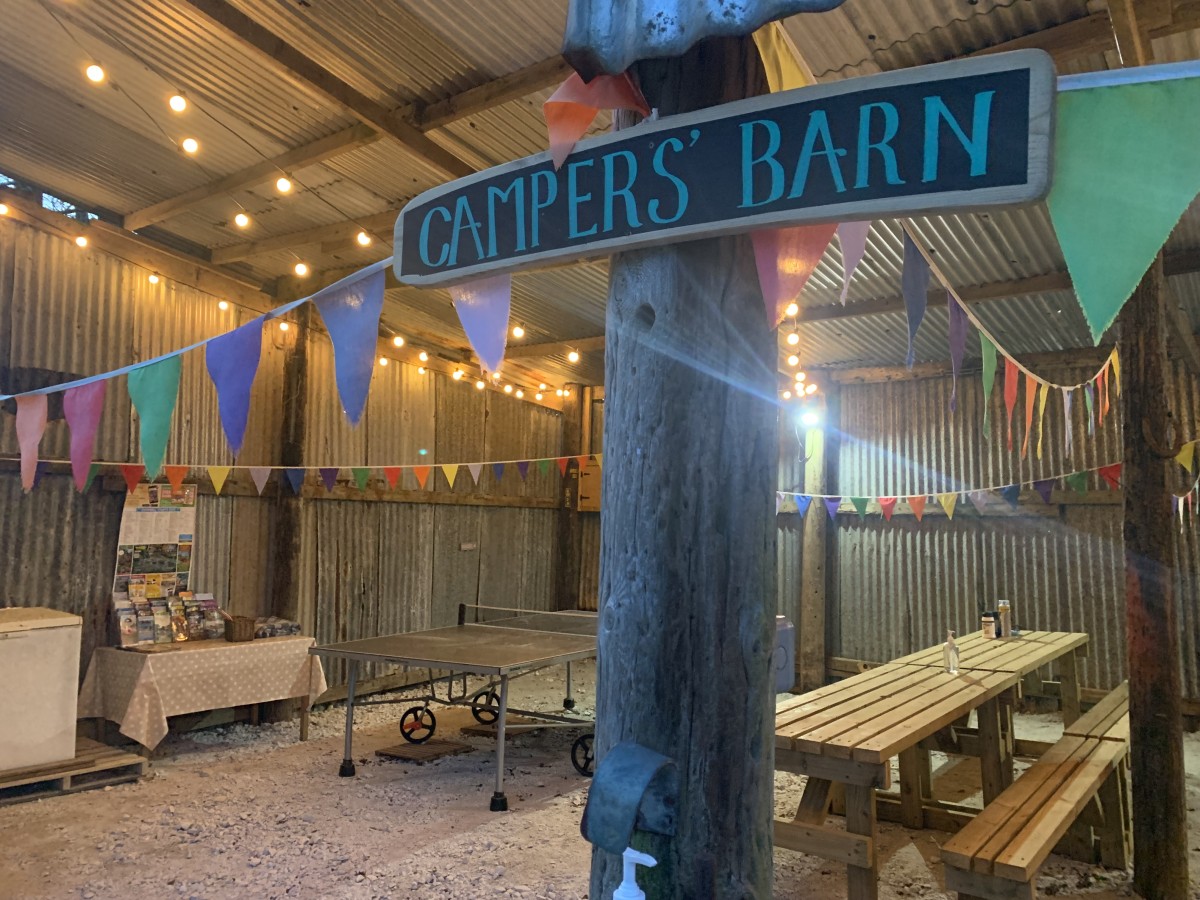 What else is there?
As there is no power in the pods, device charging lockers are available in the kitchenettes for mobile phones or tablets. Each locker has a three-pin UK plug and two USB charging ports.
A  'rainy day' campers barn where guests can escape the weather, have a meal, plan the day and play table tennis. There is also a clothes airer for drying wet gear after a day on the beach.
Each pod has a parking space in the pod field near the facilities block.
There is a second large fire pit down at the riverside picnic area if you want a quieter place to watch the stars and a night walk.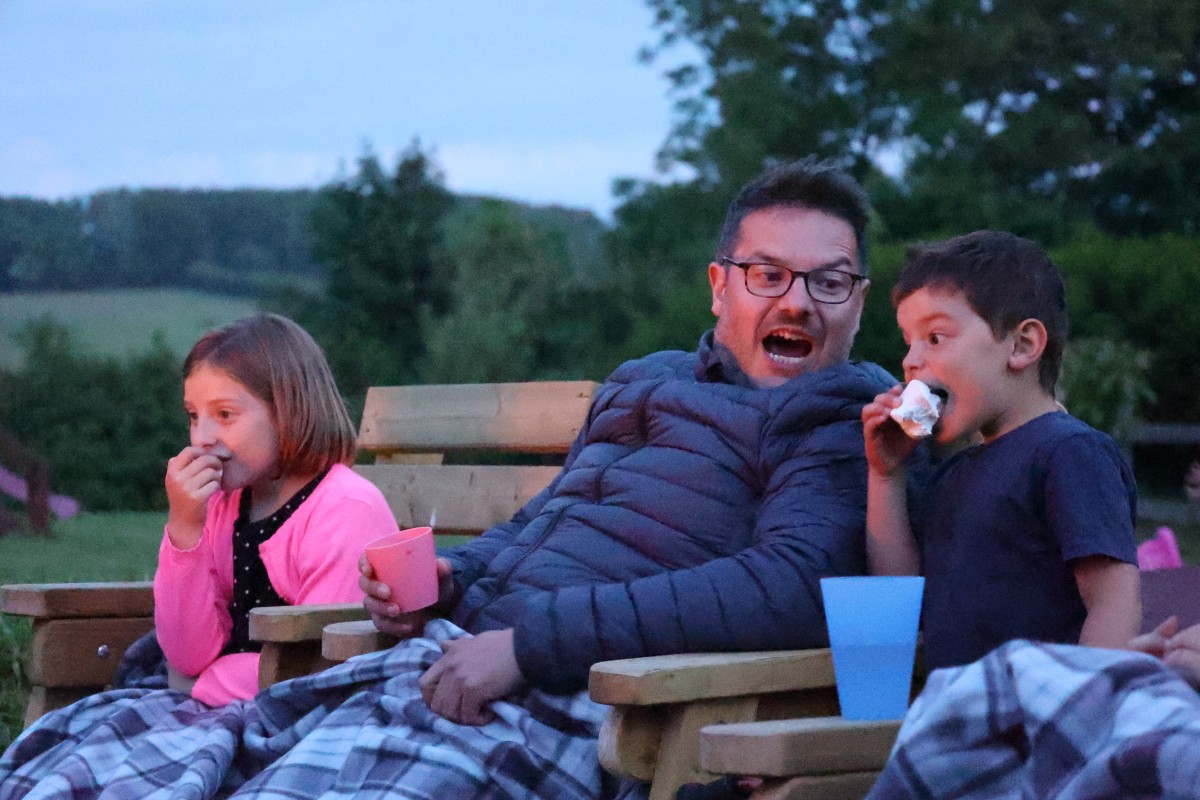 Spread the cost
A low deposit of 20% secures your booking with balance due eight weeks before your holiday.
Arrange to pay in instalments – just get in touch once you've booked your dates and paid the deposit.
We try to be flexible in the event you have to cancel. If we can rebook your dates, we will refund less an admin charge. Alternatively, and depending on notice and availability, you may be able to book alternative dates. (Refunds are not possible on moved dates).
We recommend you also take out holiday insurance to cover you for any cancellations.

Want to find out what to do and where to eat?
To find out more about the local town, Camelford, where's best to eat and shop, which beaches are nearby or what attractions to visit, find out more…
Nearby

"We had such a brilliant week staying at Higher Culloden farm & were sad to leave! Spencer and India are so welcoming relaxed and helpful and make the stay really lovely. The pods are great – simple but good space, lots of storage and warm. We stayed with our two little ones (age 1 and 3) and they loved it – especially feeding the pigs in the morning."
Via website