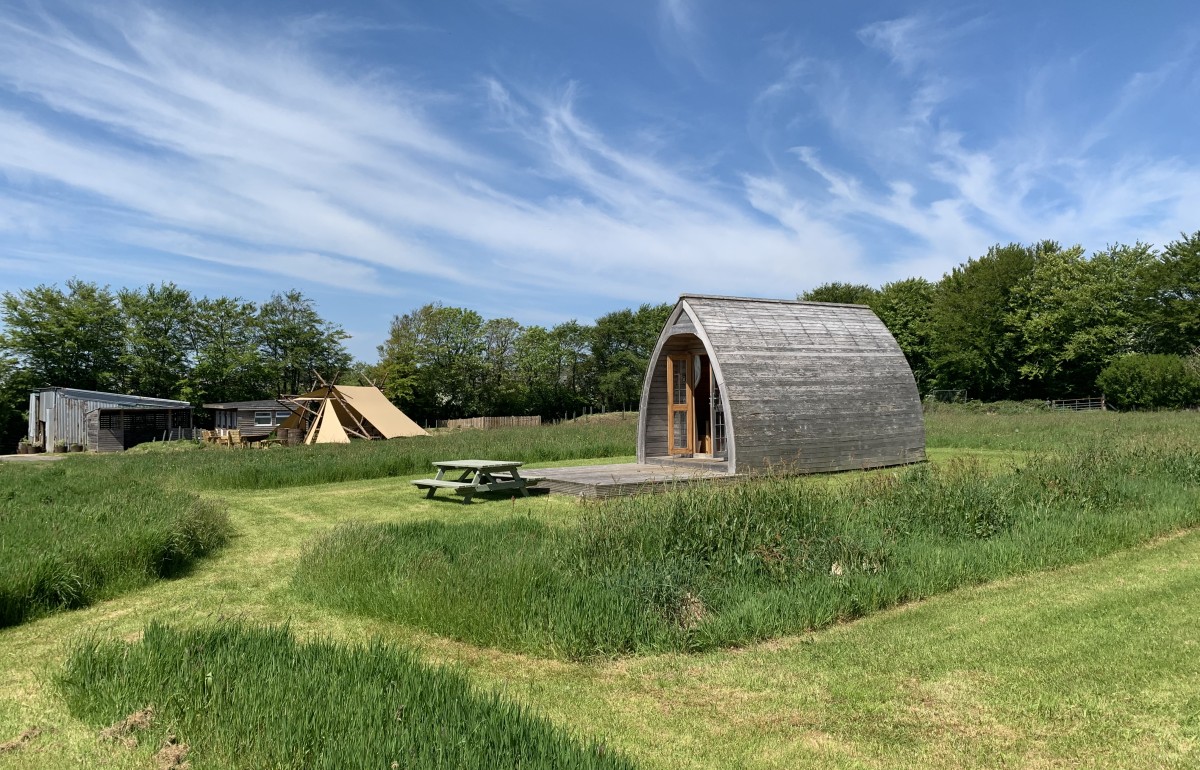 Our Frequently Asked Questions
How do Higher Culloden Farm pods compare to other glamping, yurt or Pod campsites in North Cornwall?
Higher Culloden Farm offers more than a standard yurt or pod campsite experience. We run a working farm and encourage guests to join us on our daily routine of checking and feeding the farm animals. We also have a private secluded stream area in the valley which guests can enjoy. We are set in the beautiful North Cornish countryside where you can come to escape and unwind, plus we are lucky enough to be a short walk away from the local town.

Our Glamping Pods are custom made from local Devon Cedar wood, and have more insulation than other factory made Pods, so that they can be used all year round regardless of the weather. We don't offer Yurts as accommodation as these are made from canvas, and are susceptible to rain and wind noise. Plus, the pods are lockable so you can feel safer.
Are the facilities at Higher Culloden Farm suitable for a family holiday in Cornwall?
Yes! Particularly if you used to love camping but find it a bit too stressful with kids now. We welcome families looking for a family holiday in Cornwall – whether you call it camping or glamping, Higher Culloden Farm is the perfect spot to visit the North Cornwall or Devon coast. It's somewhere between camping and glamping. It's perfect for young children here. We have a play area for children with a huge sandpit, and of course they get to meet the animals. For older children there is table tennis in the barn. We also have a lovely private area down at the stream, which is perfect for picnics and skimming stones. We love it when families join us on our morning rounds of checking and feeding the animals and collecting eggs from the chickens.

Do the Pods have an electricity supply?
No, there is no electricity inside the pods. We have two rechargeable touch lights in the pods. There is lighting in the bathrooms, kitchens, and there are charging lockers with plugs in the Kitchen if you need them. The pods are double insulated so are nice and cosy at night and you can open the double glazed window to cool off.
Is there wifi?
We try to encourage families to unplug and power down, to relax and enjoy the countryside. We don't have WiFi (as we found it was a truly terrible connection and painfully slow as we don't get broadband) but there is excellent 4G on site should you need it and devices can be charged in the kitchen lockers. Local cafes, pubs and bars do have wifi if necessary though.
Are there clothes washing facilities?
There are no washing facilities currently at the farm, in an effort to reduce water load on our septic tank. You could however use the large green tub to hand wash if needed.
Am I allowed to smoke at Higher Culloden Farm
No. Smoking is not permitted on site.
Are Dogs allowed?
We do not allow dogs or other pets on the farm, as the animals may not get on with other dogs and we often have escaped chickens wandering around, plus lots of wildlife. There is a great kennel just over a mile away at Collans Cross 01840 213410. Guide dogs are howver permitted.
Are we able to book large group glamping in Cornwall?
Yes. We're perfect for groups of friends or extended families to get exclusive use of the site. We do allow groups by arrangement (and early booking!) for families, friends or club meetings. No stag or hen dos though.
Are the pods secure?
Yes, the window is double-glazed and the door is lockable with your own key. We will have to charge for lost and replacement keys.
Are we allowed to cook inside the Higher Culloden Farm Camping Pods?
No. Cooking is only allowed off the grass and away from the decking/pod. You are welcome to use the firepits or barbecues for cooking.
Are Higher Culloden Farm Glamping pods heated/insulated?
There is no electrical heating inside the pods as they are off-grid. However the pods have double insulation in the walls and floor which is excellent at keeping them warm in winter and nicely cool in the summer.
What shall we bring with us on our Family Glamping weekend in Cornwall?
Your pod is like a wooden tent! It comes equipped with a double bed (transforms into a family table during the day) and bench seats which turn into beds for children up to about 12 years old (they are 5'6″ long so not good for older kids). There are also storage cupboards and shelving to store your stuff during your stay. Bring your own bedding or sleeping bags and we recommend that you bring the rest of your camping gear, or hire camping packs, to make your stay as comfortable as you like. There are barbecues freely available (there are cafes and restaurants just a short walk from the farm so you needn't cook). See our webshop for more details about extras you can hire during your stay.
Where can I have a BBQ?
We have barbecues to borrow for use in your pod garden area – we ask that you are mindful of the direction of your smoke so as not to interfere with other guests.
Can I have a campfire?
We have designated campfire areas, the cookout canopy area near the facilities block which is a great meeting place, or a second one down by the stream which is perfect for quiet, private evenings stargazing. Please do not light any fires anywhere else on the farm. We have seasoned firewood available to buy and local lumpwood charcoal.
Where do I park?
We have parking places a short walk from your pod in the same field. One space per pod. We can offer a discount if arriving by public transport. If you need EV charging, there are spaces just in town at the bottom of the road to plug in.
Do you have any undercover area for rainy days?
We have a barn with tables and chairs, so that there is space for families to relax if it rains. There is also table tennis in the barn.

What can we do on the farm?
Feeding the animals, exploring our 15 acres, wonderful walks and stunning night skies. Visit the Farm page for what you can do here.
What can we do nearby?
There's so much to do, visit and experience within 40 minutes of here such as Port Isaac, surfing beaches, Eden Project. We're a great base for exploring the whole county, all the way down to Land's End. For what's best to do in Cornwall, find more on our Nearby page.
More detailed answers are revealed in our digital Welcome Book sent out with your confirmation email.
If we've missed any questions, please do ask and we'll add them to the list!